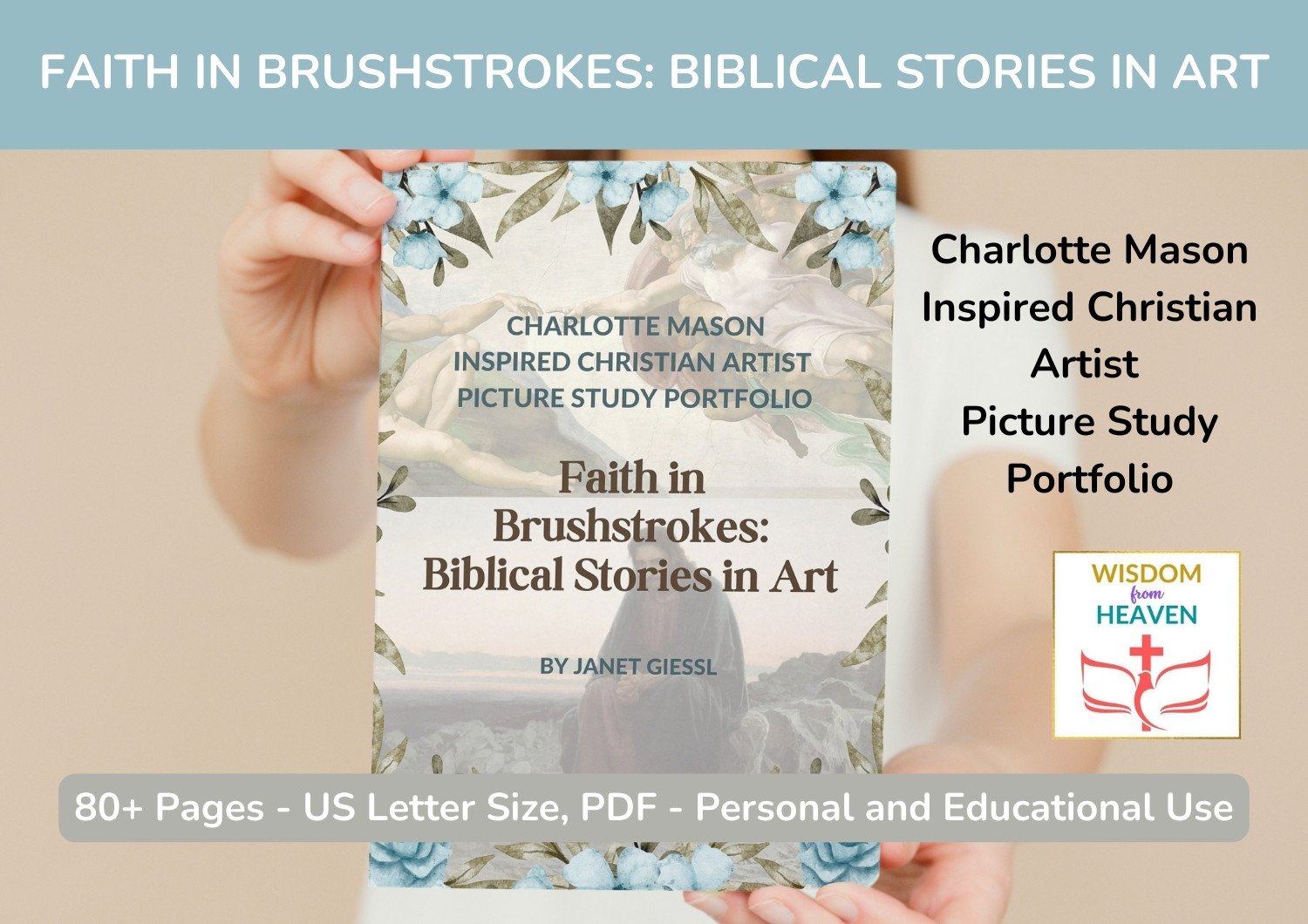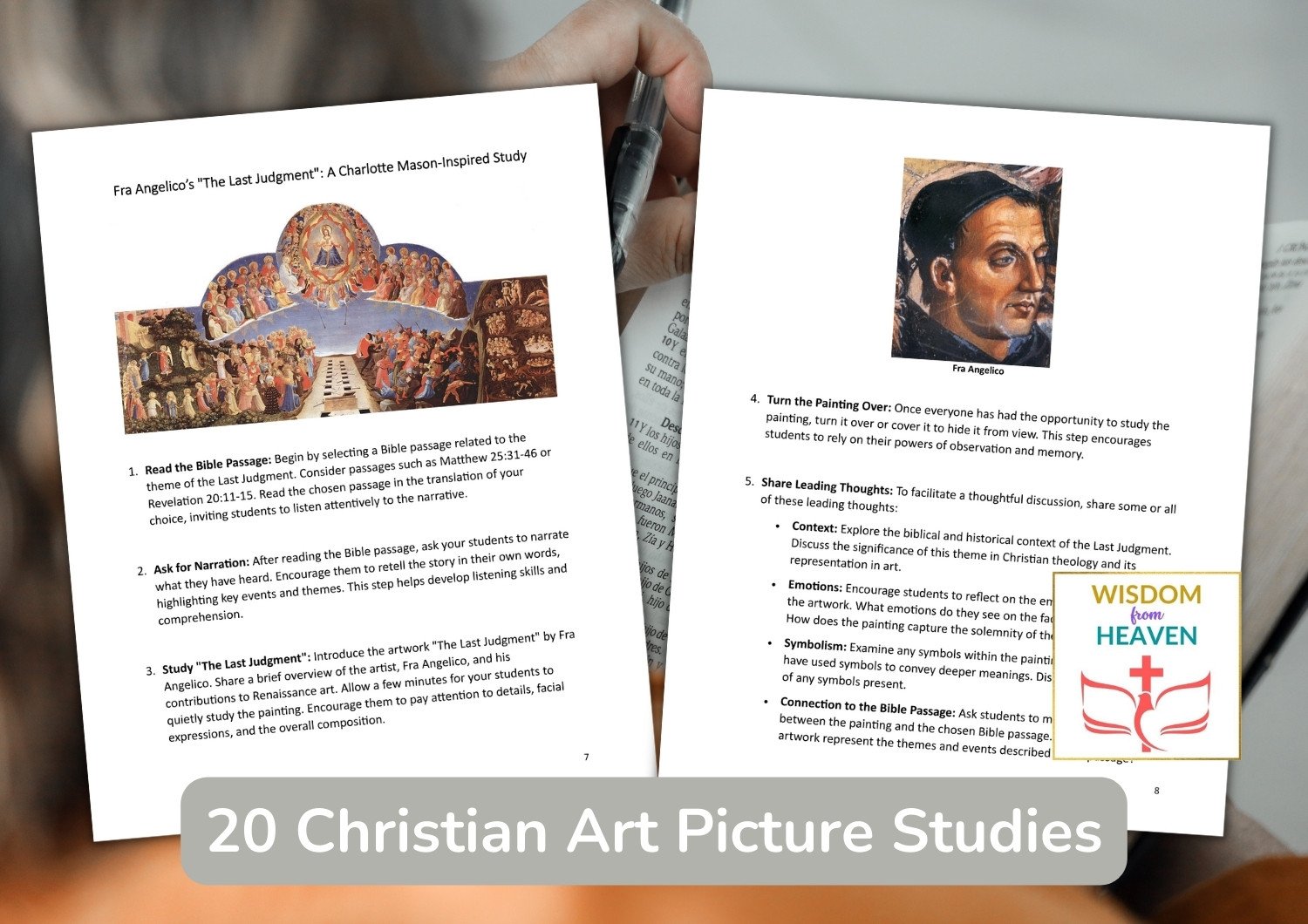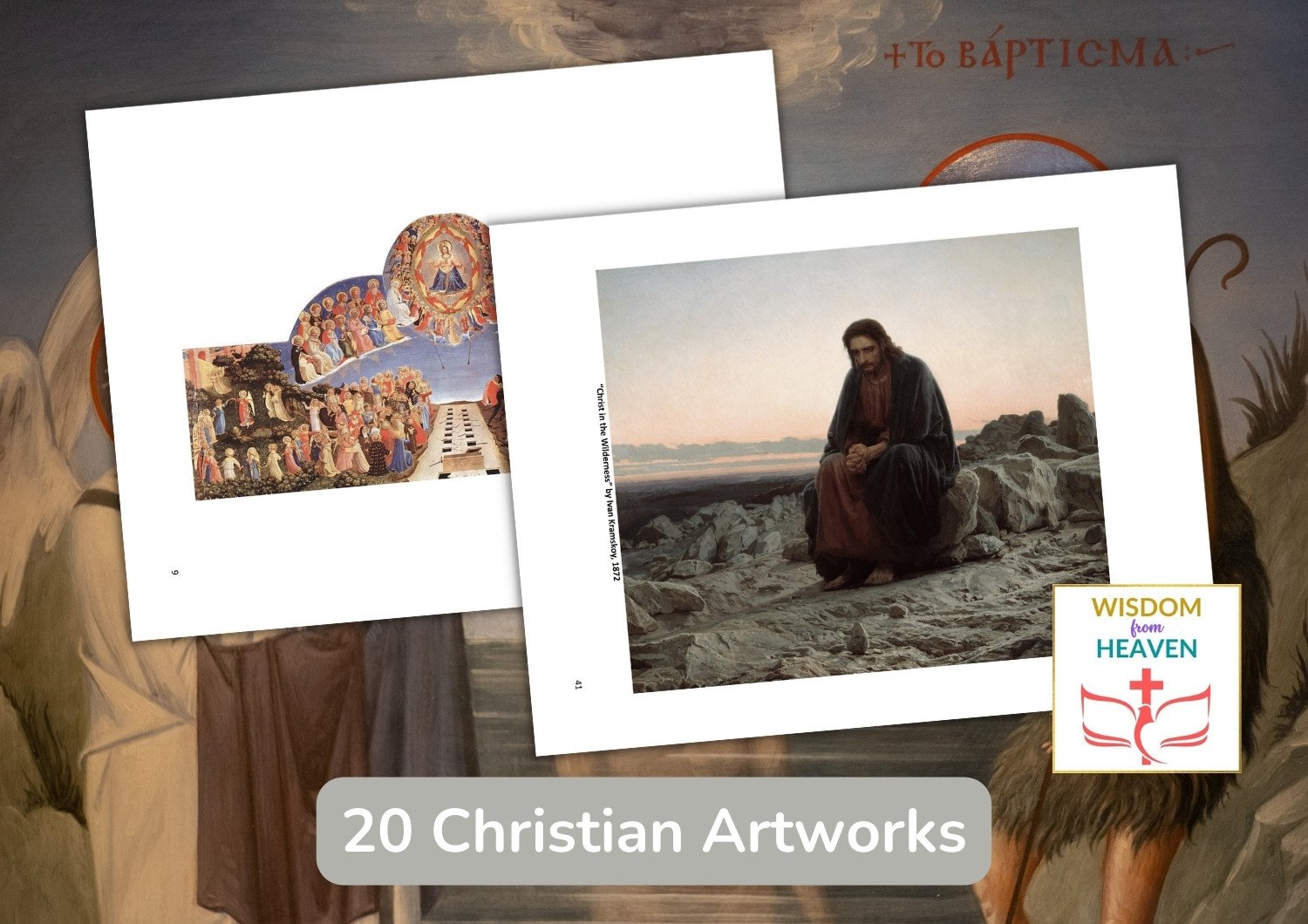 Faith in Brushstrokes: Biblical Stories in Art - Charlotte Mason Inspired Christian Artist Picture Study Portfolio - Personal and Educational Use
Pay what you want:
(minimum $10.00)
Preview
Unlock the treasures of faith and art with our "Faith in Brushstrokes: Biblical Stories in Art" Portfolio, meticulously crafted for those seeking spiritual enrichment and a deeper connection to Christian themes through the lens of renowned artworks. Inspired by the educational philosophy of Charlotte Mason, this portfolio is designed to engage students and enthusiasts in an immersive exploration of timeless Christian art, fostering a profound understanding of biblical narratives and the artistic interpretations that bring them to life.
Key Features:
Diverse Selection: Our portfolio presents a curated collection of 20 distinct Christian artworks, each depicting different aspects of the Bible's rich narratives. From iconic scenes to lesser-known moments, this diverse selection ensures a comprehensive study of Christian art.
Charlotte Mason Inspired: Embrace the principles of Charlotte Mason's educational approach, including narration, careful observation, and meaningful discussions, as you delve into each artwork. Experience art as a conduit for spiritual growth and biblical comprehension.
Public Domain Art: We have meticulously sourced artwork that is in the public domain, making it accessible for educational purposes, study, and discussion without copyright constraints.
Thoughtful Instructions: Navigate each artwork with ease using our thoughtfully structured instructions. Read relevant Bible passages, encourage narration, study the art, engage in discussions, and share leading thoughts to spark reflection.
Diverse Themes: Explore a wide range of Christian themes, from the nativity and divine intervention to redemption and the courage of biblical figures. Each artwork offers a unique perspective on these timeless narratives.
Artistic Variety: Experience the diverse styles and artistic mastery of renowned painters, including Caravaggio, Botticelli, Velázquez, and more. Discover how different artists interpret and convey biblical stories.
Benefits:
Spiritual Enrichment

:

Immerse yourself in the profound stories of the Bible through the eyes of masterful artists, deepening your spiritual understanding.
Educational Value

:

Ideal for homeschoolers, Christian educators, or anyone interested in the intersection of faith and art. Enhance biblical literacy while nurturing an appreciation for great art.
Cultivate Observation Skills: Sharpen your observation skills and critical thinking as you study each artwork in detail.
Group Study or Solo Exploration: Suitable for both group study sessions and personal exploration, making it versatile for various learning settings.
Reveal the beauty of faith through the language of art with our "Faith in Brushstrokes: Biblical Stories in Art" Portfolio. Immerse yourself in the profound stories of the Bible and the artistic interpretations that have transcended time. Order your portfolio today and embark on a transformative journey of faith and creativity.
Pages: 87
Size: US Letter Size - 8.5 x 11 inches
File formats: PDF
Resolution: 300 DPI
---
Terms of Use
Please Note: This is a DIGITAL product. NO PHYSICAL item will be sent to you.
Since this is a digital product, all sales are final. No refunds are issued.
It is also important to note that the color of this product may slightly vary depending on the type of printer used.
This resource is only for personal and educational use (classroom, homeschooling) as well as for use at church and for ministry. Commercial use (selling) is not allowed.
Visit our Biblical Health and Wellness Ministry at https://wisdomfromheaven.net.