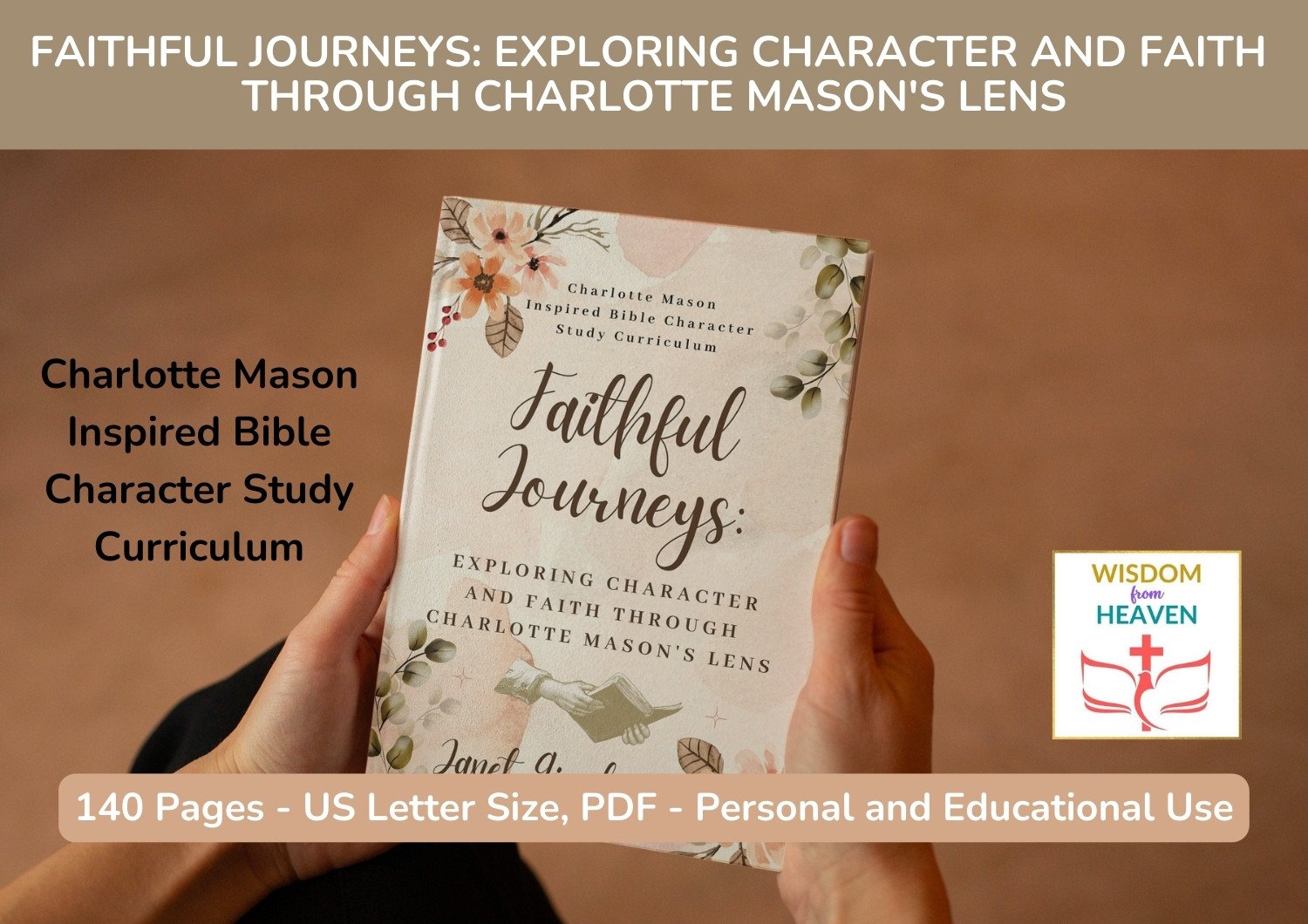 Faithful Journeys: Exploring Character and Faith Through Charlotte Mason's Lens - Charlotte Mason Inspired Bible Character Study Curriculum - Personal and Educational Use
Pay what you want:
(minimum $15.00)
Preview
Discover the beauty of faith, courage, and timeless wisdom with our Charlotte Mason Inspired Bible Character Study Curriculum. Designed for students of all ages, this comprehensive curriculum brings the Bible's captivating characters to life, offering a holistic learning experience that nurtures both faith and intellect.
Key Features:
Engaging Character Studies

:

Dive into the lives of iconic Bible characters like David, Solomon, Esther, and Paul. Through rich narratives, explore their challenges, triumphs, and enduring lessons that still resonate today.
Nature Connection: Immerse yourself in the wonders of the natural world, just as Charlotte Mason herself advocated. Nature observations will deepen your understanding of these characters' stories by drawing parallels between the beauty of creation and biblical narratives.
Narration and Creative Expression: Develop strong language skills and emotional connection through narration. Retell these character's stories in your own words, building empathy and understanding. Express your insights and emotions through creative projects like art, poetry, and more.
Reflection and Discussion: Thought-provoking discussion questions stimulate meaningful conversations about faith, morality, and character. Explore how these ancient stories still hold relevance in our modern lives.
Prayer and Reflection: Each lesson concludes with a moment of reflection and prayer, fostering a deeper connection with one's faith and encouraging personal growth.
Flexible Learning: Suitable for homeschooling, Sunday schools, or individual study. Adapt the curriculum to your schedule and preferences.
Comprehensive and Accessible: Our curriculum is all-inclusive, offering Bible passages, lesson plans, creative project ideas, and discussion questions. No need for additional materials.
Unlock the timeless teachings of the Bible while embracing the principles of Charlotte Mason's educational philosophy. The Charlotte Mason Bible Character Study Curriculum is a holistic approach to faith-based education, nurturing both the heart and the mind. Start your "Faithful Journeys" today and let the wisdom of these biblical characters enrich your life.
Pages: 140
Size: US Letter Size - 8.5 x 11 inches
File formats: PDF
Resolution: 300 DPI
---
Terms of Use
Please Note: This is a DIGITAL product. NO PHYSICAL item will be sent to you.
Since this is a digital product, all sales are final. No refunds are issued.
It is also important to note that the color of this product may slightly vary depending on the type of printer used.
This resource is only for personal and educational use (classroom, homeschooling) as well as for use at church and for ministry. Commercial use (selling) is not allowed.
Visit our Biblical Health and Wellness Ministry at https://wisdomfromheaven.net.